This universal control system can be used for all kinds of motorized folding machines made by company.
It uses the latest technology in the field of control, resulting in an easily programmable system controlled via the touch screen.
The advantage is its ease of use, ease of preparation of the programme, while the less qualified person may handle the programming and control of the machine after two hours of instruction learning.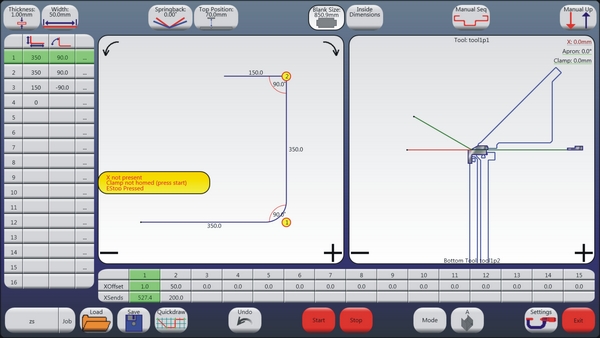 21,5" LCD touch screen colour monitor with the best graphics

Windows 10

graphics Mode

graphical representation of bending sequences for the selected programme

graphical display of the position of the material before bending

verbal and graphical display steps

correction of the profile by direct contact on the desired part of the profile

each operator can have their own password to enter their library

powerful diagnostics

inserting a different angle corrections for various materials

correction of the bending angle (suspension) for the entire programme or for each bending angle

control of the size of the opening of the crushing beam for the entire programme or just some steps

bending radius

edging

linked profiles

extended length of the profile directly on the main screen

a list of the bending sequence

a possibility to draw the profile, measure angles and lengths, select the points in the line of bending and visual inspection before bending the profile thanks to the split screen

USB connection to the conservation and loading programmes

off-line programming from the office

search profiles by name, sketches profiles

the ability to save more than 5,000 programmes in Memory

optional programme names (names of profiles)

languages​​: English as a basis (other languages ​​on request)
The FF101 control system provides for the control of servomotors.